We want to honor the K9's of ATSAR who were devoted to bringing the lost home. These K9's and their handlers spent countless hours of training so they could be ready to deploy whenever called upon to find people who were missing.
We say "Thank You" to each of these teams for your service. 
K9 Denali
Handler: Stuart Samples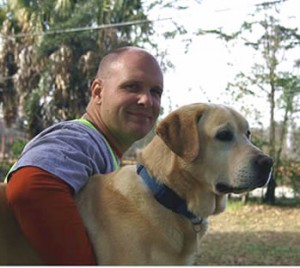 K9 Denali specialized in Human Remains Detection and was certified by numerous agencies including ATSAR K9, NAPWDA, NNDA, NASAR and GBRT. At home, Denali was a puppy that needed a job. He excelled in obedience and agility, thrived on training and loved to be constantly wet and muddy.
Denali was roughly 10 months old when he was introduced to K9 Search & Rescue. It was very clear from the beginning that he had an incredible nose. Denali and Stuart had the opportunity to travel, train and deploy with some of the very best in SAR and their results included numerous confirmed recoveries across the United States.
Denali demonstrated a love for the art of K9 training, a commitment to the community and was a dog with a heart of gold. Once retired, Denali traveled overseas with Stuart and the family on assignment and lived a life of luxury and spoiling that every SAR dog should have. "Nali" as he was often called, passed away at the age of 14 after having traveled the world with Stuart and will forever be missed by his handler, his family,  and the community as the first and founding Alpha Team K9.
K9 Kona
Handler: Stuart Samples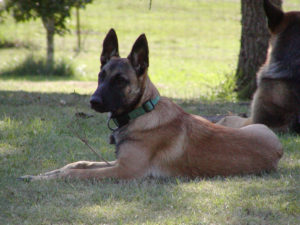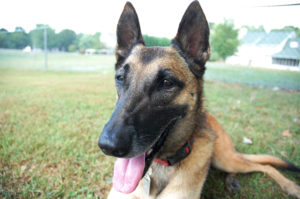 K9 Kona specialized in both Area Search Detection and Human Remains Detection and was certified by numerous agencies including ATSAR K9, NAPWDA, NNDA, NASAR and GBRT. Kona was the proud daughter of a carefully planned cross-breeding between a Belgian Malinois SAR father and and police mother. She was imprinted from her very first days on the ground to become a SAR dog.
Donated to Stuart by Tina McElveen, Kona was a remarkable puppy from the very beginning. At the age of 8 weeks she was kenneled with her big brother Denali whom she quickly became Alpha over and never looked back. Her incredible agility, obedience and drive to search were unrivaled and she constantly challenged Stuart to move fast and think faster about what she might find next. There was no challenge too large or small for Kona and she was truly a joy to handle and deploy. She recorded numerous confirmed recoveries during her incredible career.
She was retired early to live overseas with Stuart and her family and got to live the life of luxury as an Ex-patriot K9. Kona got to go home to Belgium, lived in Germany, traveled to Switzerland, France, Luxembourg and the Netherlands and took it all in stride often enjoying the opportunity to stay in 5-Star hotels and hang out under the tables at Michelin rated restaurants. She passed away at the age of 13 having lived an extraordinary life and will forever be remembered fondly as the fur-missile with a nose of the Gods.
K9 Bodi
Handler: Pam Nyberg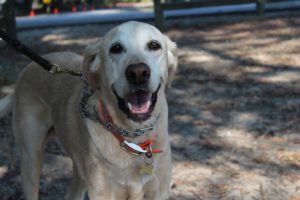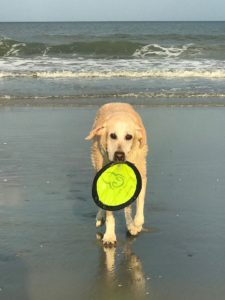 Bodi is short for Bodhisattva – one who forgoes worldly goods in order to help others.
Bodi was chosen at 7 weeks of age for scent specific trailing.  He fulfilled his name and his chosen job far better than I ever imagined.
Bodi has such a passion and love of trailing to this day.  He retired from the team in July 2019.  We still run short trails though. 🙂
His other passion is the ocean: breeze, waves, swimming, chasing frisbees.  He seems so at peace when absorbing all the scents.  
We will continue to enjoy both of Bodi's passions as long as possible.  13 years 2 months and going strong. 
K9 Jamie
Handler: Pam Nyberg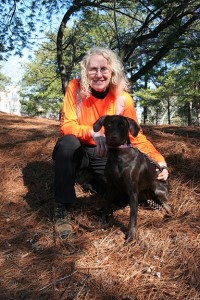 Jamie was my first operational K9.  She was a 'gift' (owner surrender) that was not chosen but came into my life full of energy.  She clearly needed a job.
Jamie was certified in Human Remains Detection.   She had such focus on her task that nothing seemed to faze her.  Momma Turkey going into full attack mode.  Falling overboard when working water search on boat – boat floated over her  – she popped up, climbed on boat ready to work again.  
She also knew how to relax and have fun in  her off time.  Jamie was the champion frisbee retriever- in water.   She always entertained us with her drying off routine. 🙂
K9 Graeson Smith
Handler: Cheryl Knieriemen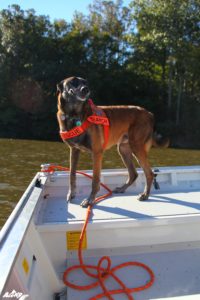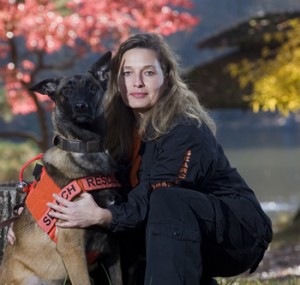 Graeson Smith was an operational Area Search belgian malinois cross trained in human remains detection. Throughout his 8 year career he was certified through NAPWDA for both live and HR land & water. He enjoyed finding his live subject and celebrating with a fun game of frisbee. He would use the
frisbee to make a taco of pine straw for the subject to continue their play. The strangest thing he enjoyed eating were pomegranates. He was super friendly, and enjoyed playing with all types of humans and dogs.
K9 Clue
Handler: Sherri Schwartz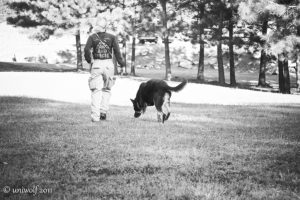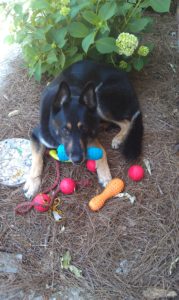 Clue (Blackthorn's Guinness) was a "once in a life time" partner and truly an ambassador for the SAR community.  He was a versatile working dog; first as a trailing dog finding a dementia subject and later as a human remains dog working in wilderness, water and disaster.  He had many certifications including:  NAPWDA, SUSAR Type 1 and 2, NSAR, NSDA, ATSAR.  Because of his big cuddly calm demeanor, he was great with small children.  Clue though had one stubborn quality.  He wanted as many toys as he could get and that meant he would steal toys from his teammates.  He has held the record of holding five toys in his mouth!  I truly miss him every day!
K9 Diego
Handler: Jennifer Sheppard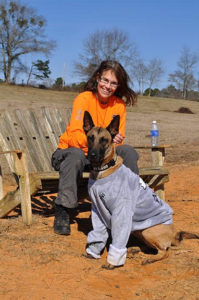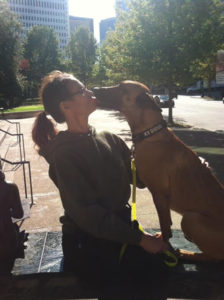 Diego was a Belgian Malinois who certified in Area Search/Large Source HRD in September 2017.  He was my first working dog, and he definitely made sure that I would continue to learn new things while training him – he felt that kept training "interesting" because no one wants a bored handler. 🙂
His only printable nickname was DD Bugz (from my daughter). He had some additional nicknames that were more colorful due to the lack of respect regarding the subject's personal space when it came to finding his toy reward at the end of a search.  He loved doing the dinner dance and the breakfast boogie because he got so excited about his food that he would spin in circles.  He worked for his beloved tug toy, but off duty he loved chasing a ball, dock diving and swimming.  He was a talented dog who could still manage to bark with multiple balls in his mouth.
He passed away on 11/30/17 due to seizures from a brain tumor.  
K9 Barney
Handler: Paul Ruszczyk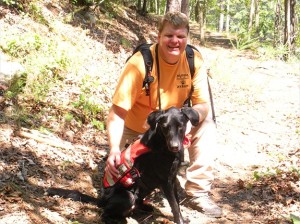 While Barney was the perfect dog to bring to Alpha Team's demos with his sweet social skills, he was serious about his search and rescue work. Barney tirelessly worked to find his target scent so he could get rewarded with squeaky tennis balls. Most importantly, K9 Barney wanted to please his dad, Paul. Barney and Paul were truly a team and they balanced each other perfectly.
We never have enough time with our furry SAR partners. For those of us who were lucky to join Paul and Barney as support, we knew we would have an enjoyable experience for a difficult task.  Paul's spin to always make this experience fun for his dog extended to everyone within his search team. Barney did whatever Paul asked, would occasionally jump up to read his handler and quickly get back on task. A whistle and a squeaky ball celebration were all Barney needed after making a find. They were a great team that is missed within ATSAR.  After Barney retired we were lucky to have Paul continue on as a big part of Alpha Team.
Very few dogs are able to successfully become a search and rescue dog. Barney was a great representative and a "poster child" for search and rescue. Barney was our friend and hero and he will be missed!
K9 Kai
Handler: Matt Frick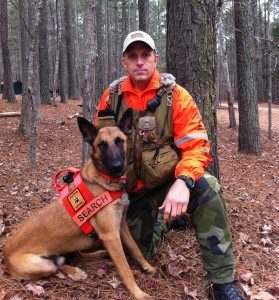 K9 Elvis
Handler: Grant Juneau
K9 Maddie
Handler: Paula Chambers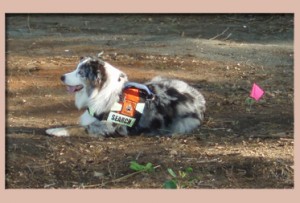 K9 Billi
Handler: Paula Chambers
K9 Circe
Handler: Steve Barden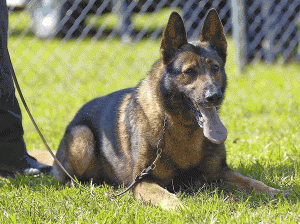 Linda Reel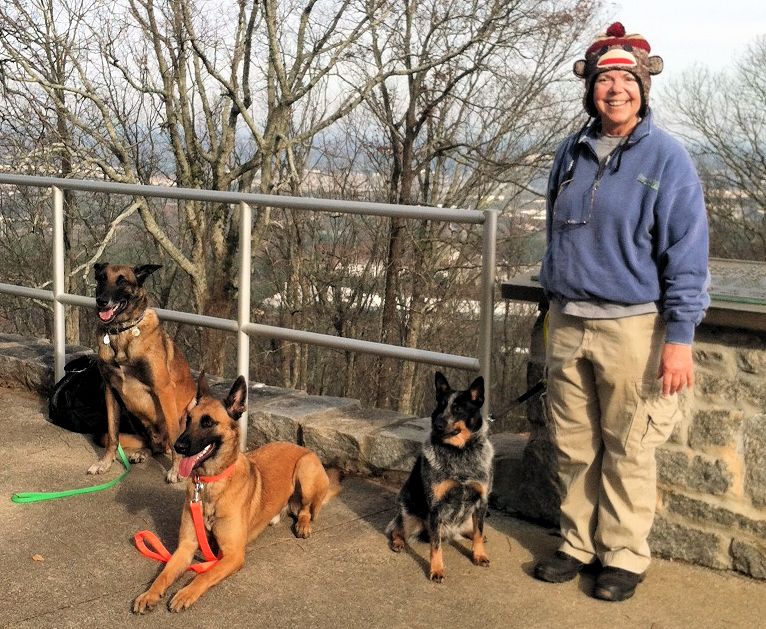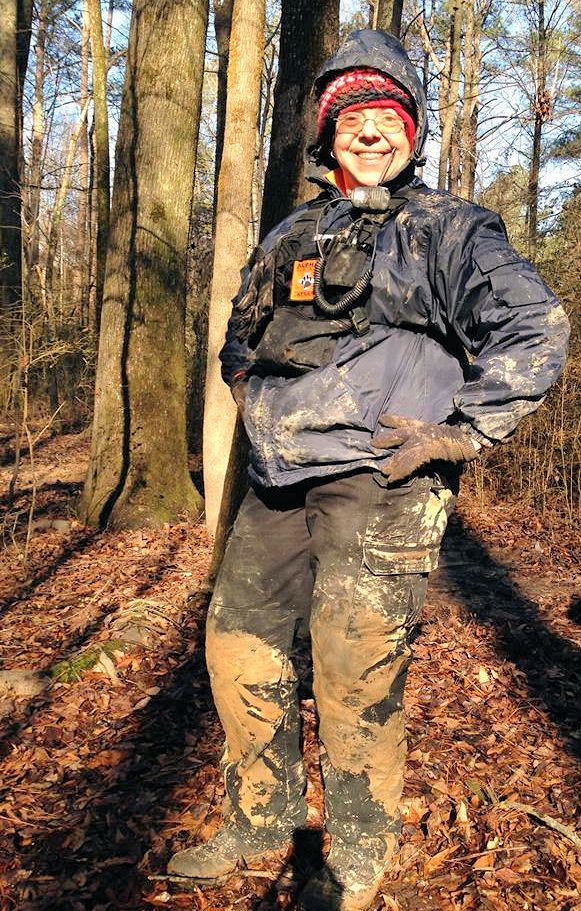 Linda Reel was an Alpha Team team member and our overall den mom. It was an honor to work with Linda and we will miss her immensely.Linda was always the trooper. She'd take whatever task you threw her way and do her best to work through it, all while wearing an infectious grin. Her smile was always there as a shining beacon of her love for life and her friends. Linda, you were truly an inspiration for us all and we love and miss you.
More information on Linda can be found on her Facebook page. She was active in many, many organizations but we feel like her heart belonged to Alpha Team because she always talked to everyone about her search and rescue team.