What does it take to become a SAR team member?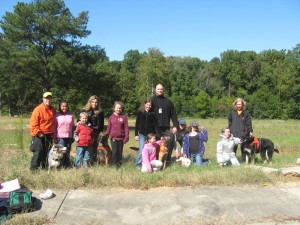 Money, time, money, more time, and lots of dedication. Things that we all want and can't find enough of! The average search dog in training will take as much time as a part time job. Evenings, weekends, and vacations are often used in search dog training, especially in the first two years of training when a candidate is working toward operational status. If a person has already purchased outdoor gear for camping, hiking or backpacking, then the outlay of money won't be too drastic; however, if you have to purchase these types of items, it can add up very fast.
To get to places to train, a rugged and reliable vehicle is important. You can't have an old beater on the edge of breakdown and get to searches in the dead of winter or in nasty weather conditions on often rough roads. You can travel hundreds of miles roundtrip for monthly trainings, to other states for seminars, and all over the southeast for search callouts and all of the expenses are out of pocket for the handler. The estimated expenditure at the beginning of search dog training is around $2,500-$5,000, depending upon mileage traveled, personal and canine gear required and the cost of purchasing a sound dog to train. The yearly expense to maintain a search dog is around $1,000-$3000, depending on the level of activity and the number of trainings that a person pursues or is often required to attend, this does not include veterinary insurance (which is strongly recommended), or medical costs for vaccinations, and treatment if necessary for your dogs safety and health. Search work is dangerous at times, and though we do our very best to protect ourselves and our dogs, accidents do happen. Occasionally, a requesting agency will reimburse a handler for their mileage to a search, pay for a hotel stay, provide a meal or assist with a tank of gas, but a handler cannot rely on this assistance.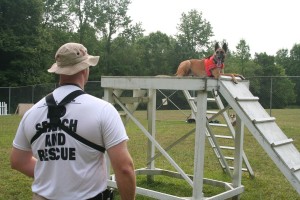 Personal time away from family and friends, your job and other obligations can also really take a toll. Many handlers find themselves torn between the obligations of training to competency for emergency missions and the obligation of spending time with loved ones and keeping the boss happy at work. If you are self employed you can understand that the money stops coming in if you are out training your dog or if you are called out on a mission. A handler has to have perseverance, determination and dedication toward the effort of becoming the best resource that they can be for the lost person. Someone's life often depends upon the performance of the search and rescue team, and the dog is only one small part of that team.
To train and operationally certify a dog, there are many considerations. First and foremost, it takes the right handler to become an operational team. A good dog in the hands of a bad handler is not going to be useful on any search mission. Becoming a competent search dog handler takes the ability to listen to others and the willingness to accept constructive criticism and the ability to watch, and learn from others effectively. The handlers that are often the best resource with their dogs are often those that are the best at growing from feedback, positive or negative, and the best at communicating their needs to others. A handler must be mentally tough, and able to handle crisis situations and be able to think clearly and act quickly to life threatening situations. A search dog handler must also be in good physical shape to perform the functions necessary to save lives. Search work is hard work, and teams like ours rarely get called out on pretty days.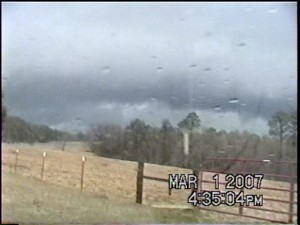 We train no matter how hot, cold, dark or wet it gets outside, because this is often when people get into trouble. On a real mission, it can often take hours and hours of endless searching to find a single clue, a piece of evidence or hopefully the missing subject, but often, this is not the case. In fact, more often that not, the search efforts are stopped before the missing subject is found, or the subject is found many days later after your team has had to pull out or was demobilized, due to financial constraints of the requesting agency, or the lack of clues or new information, which can be very frustrating. Second, a dog with a "good nose" is simply not enough to make a search and rescue K9, because all dogs have good noses, but not every dog can be a search dog. Getting a dog with the right drives, temperament and intelligence to become a search dog may mean testing litter upon litter of puppies for the right candidate. It might even mean that the family dog that you thought was really smart and who needed a job may not be the right candidate. Would you be willing to get another dog for search and rescue training if this were the case? Do you have the option of getting another dog that could be specifically selected for search work? Lastly, it also takes a VERY understanding and supportive group of family and friends. You will need people to hide and set up problems for you and your dog constantly to remain effective. You will constantly be spending family resources on training, trips and supplies. You will be spending a lot of time away from your family and friends to train at national and regional seminars and group trainings. The training of a search dog is an enormous commitment, and the victim and his or her family deserves only the best that we can offer them in their time of need.
Alpha Team Goals and Expectations
Teamwork: We expect our members to willingly work together effectively under the worst field conditions. We are looking for people who can work cohesively in a wide variety of demanding situations. Teamwork is a critical part of every team training and of every rescue mission.
Attendance: Attendance is an integral part of your success on any search and rescue team. Without attending team trainings, meetings and seminar opportunities, you will not be able to progress successfully through our training program. We will require a minimum attendance policy of seventy-five percent (75%) through this probationary period.
Dedication: Alpha Team expects its members to be dedicated to learning, increasing their personal skills, and being dedicated to the task at hand. Search and Rescue is not meant to be a social club. We are a serious unit of field ready operators, and we expect the same level of dedication out of everyone we consider. Show up ready to work and willing to focus on the positives, regardless of the difficulties.
Attitude: A positive "can-do" attitude is a primary element that we require. If you exhibit a poor attitude, you will be asked to leave. Please check any personal baggage at the door. No one likes to work with someone who is unwilling, uninterested, and difficult to deal with. We work in very demanding conditions, and your attitude can make or break a successful rescue mission. Alpha Team needs strong, positive and talented members, and we will settle for nothing less. These demanding conditions may be stressful at times and we expect you to be able to effectively function within reasonable limits, for the success of the team.
Learning: Alpha Team uses a wide variety of skills, methods and technologies to be effective in our operations. Please make yourself available to learn how we work and to learn about why we train the way we do. As a prospective member, we encourage you to ask questions, seek help, and to help us help you. We encourage you to challenge yourself to create the most positive learning experience for yourself through active, willing participation.
Communication: Good search and rescue teams are also strong with good communication skills. We strive to keep open lines of communication and we expect that you will do the same. Please speak up, tell us your concerns, ask questions and become part of our unit by learning to work and communicate effectively with our team, our volunteers and our supporters. Be willing to accept any feedback as a positive effort toward helping you improve your skills.
Get to know us: The best way to become a part of the team is to become a part of the team. Tell us about yourself, your interests, and who you are. Learn about us, and make an effort to get to know the people with whom you'll be working.
Be prepared: Training events and field operations can be very demanding. We expect you to come to each training with the proper equipment and to be prepared to work. We will be glad to show you the items that will keep you best prepared for the areas where we train. Because we strive to maximize our time during training, it is crucial that you come properly prepared for each training and are ready to deploy in an efficient manner.
Physical Fitness: All Alpha Team members should be physically fit and capable of carrying out their roles and responsibilities.
Know your personal limits: Search and Rescue is not an easy job. We expect all team members to be personally responsible for their actions and able to assist others at all times. We function in a team capacity, not as a group of individual talents. Please communicate your strengths and weaknesses to us at all times, so that we can help you to become a more effective member of the team. To operate effectively, all members must be informed; therefore, a willingness to keep your fellow team members informed is vital to our success.
Tell us your Medical History: Everyone on the team has a medical history, and everyone on the team knows each other's medical history. We work together under difficult conditions. It is vital to our safety to know what to watch out for within our own team as we search for others who have been unable to return safely to their families. This is all part of good communication and crucial for your own safety. Tell us your medical history so that we can increase our operational safety and make every mission a success.
Ask Questions: We cannot help you to learn if we are not aware of what you need help with. No one on this team knows everything and we feel that everyone has something to offer. We are constantly researching new methods and increasing our skills base. Please help us to assist you by telling us what you need help with, what you want to practice on, and what you need more information about. Also be prepared to answer our questions about you and help us understand what strengths you bring to our organization. Our goal is to increase the strength of our team and our members through education and experience and to save lives though our teamwork.
Take Responsibility: It is your responsibility to increase your knowledge and to improve your capabilities in the field. As a team we will do everything we can to help you succeed, but we cannot do it for you. You have to assume the responsibility of learning, communicating, and developing yourself as a member of Alpha Team K9 Search and Rescue.
Enjoy yourself: Training is what you make of it. Some of us honestly do enjoy swatting omnipresent bugs, wading through the mud, being in miserable weather and hiking through miles and miles of endless briars. We feel these experiences will help you learn to be a more flexible and adaptable team member. Because of what we do, we are often in rough areas, with less than ideal conditions for good times; a great outlook and a positive mental attitude sure can make the difference. In our opinion, if you are not having fun, you're just not doing it right!
Suggested Reading List
Search and Rescue Dogs: Training the K-9 Hero, 2nd Edition, American Rescue Dog Association – Awarded the prestigious Maxwell Medallion by the Dog Writers' Association of America and with over ten thousand copies sold, this hardcover book sets forth the step-by-step search dog training methods developed by Bill and Jean Syrotuck and ARDA over the last 25 years. Chapters include information on selection and training of the search dog, scent theory, handler training, responding to a search mission, specialized training (disaster, avalanche, water, body and evidence searches) and canine first aid. Each chapter is illustrated with diagrams and/or photographs to highlight the text. An excellent book for reference and search and rescue K9 training.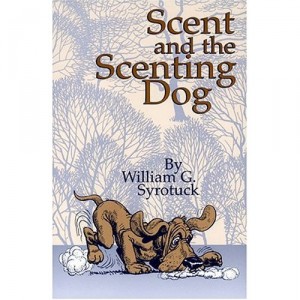 Scent and the Scenting Dog, William G. Syrotuck – Scent and the Scenting Dog is the foundation for anyone interested in how a dog uses its nose to detect scent. It has been used by countless Search and Rescue Dog personnel, police dog trainers, and military police dog trainers and handlers. Another great reference book that is recommended for those interested in joining a canine search and rescue team.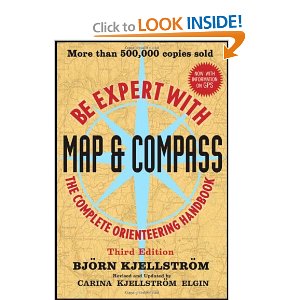 Be Expert with Map & Compass, Bjorn Kjellstrom and Newt Heisley – This edition includes everything the beginner needs to know about orienteering: understanding map symbols; traveling by map alone, by compass alone, or by map and compass together; finding bearings; sketching maps; traveling in the wilderness; and more. A great book for understanding the importance of map and compass work and how to apply it in practical ways such as in search and rescue and canine work.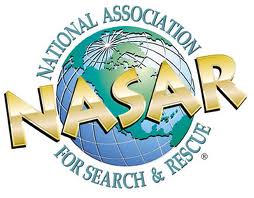 NASAR SARTECH II Examination – The SARTECH II level of certification is the intermediate level for SAR personnel. This level is recommended for any person who functions on SAR missions as field searchers. In addition to the information provided on the website, the NASAR course that prepares one to challenge the SARTECH II is Fundamentals of Search and Rescue. There are no prerequisites required for a person to challenge the SARTECH II examination. People who have had formal SAR training and experience on SAR missions will typically pass the examinations more easily than those who haven't.
If you've made it this far and are still interested in becoming an ATSAR Member, please contact our Field Support Coordinator at info@atsar.org.
Happy Searching!
Alpha Team K9 Search & Rescue