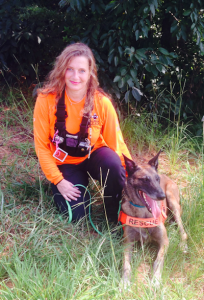 Congrats are in order for Team Graeson! Team Graeson consists of one of our senior handlers, Cheryl, and K9 Graeson. Every two years, Alpha Team handlers are required to recertify in their K9's discipline and Team Graeson accomplished that today.
These certification exams don't happen easily and it takes a group of evaluators and subjects to make it all come together. Sherri was our lead evaluator for this exam with Pam and Matt as co-evaluators and Bev as the subject.
Team Graeson passed this tough exam, even while enduring significant overgrowth in the search sector and oppressive heat. The whole team is proud of their accomplishment and is looking forward to more handlers becoming operational soon.