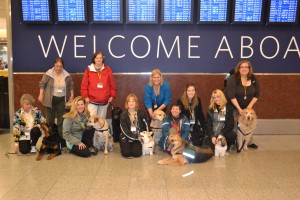 In February 2010, Sadie and I were one of 10 K9 handler teams participating in training for the HOPE Animal Assisted Crisis Response team that took place at the Roswell Alpharetta Public Safety Center. The days were long and tiring with a lot of info and role plays, but I learned a lot.
Speakers were HOPE members and dog trainers who had great information about K9 stress signs. The team veterinarian offered good information about what meds to have in a 24 hour pack. She taught me how to administer accupressure on Sadie when she showed signs of stress.  The temples, shoulders and hips are three pressure points on the body to massage for endorphin release. It worked really well.
On day one, the dogs practiced wearing booties. It is recommended that when you do the once a month heartworm prevention, you slip the boots on for a few minutes just to keep the dogs familiarized with the gear. We then visited Alpharetta firestation #3 where the firemen exposed the dogs to burn smells, their gear/masks, and all three sirens/lights. Later we had a fabulous dinner with the dogs at Never Enough Thyme on McGinnis Ferry Road. Next door is a great new pet store. Both these locations were very receptive and willing to accomodate dogs.
On day two we rode Marta to the airport, went through security and boarded a plane to allow each dog to experience bulkhead v. regular cramped space. I'm not sure what kind of arrangements were made before hand to allow the dogs on Marta but we were not escorted or asked for ID like we were at the airport. At the Atlanta airport there is no standard protocol for how dogs are screened. Sometimes we may be required to remove ALL metal, so we need to have a regular rope to replace the collar, vest and leash, if asked.  Some screeners will require the dog to pass first, while others will require the dog to stay while the handler passes and then calls the dog. Handlers must still remove shoes, and place items in the bin, etc. Dog treats are allowed but liquid is restricted to 8oz.
Airline policies vary; Southwest does not accommodate working dogs. Delta instructed us to call when making deployment reservations (as opposed to reserving on line). However, as accommodating as Delta is, the liaison acknowledged that not all personnel at the call center are up to speed on working dogs and one must be prepared to either ask for a supervisor, or direct them to the working dog section under the Service Dog Guidelines in their manual. Furthermore, there are NO limits on the number of WORKING dogs on each flight. Sometimes handlers will be told there is a 2 dog limit. If this is the case, just call back and speak to a different person. You may or may not have to pay a fee for the dog and they will always try and leave extra room for the dog but cannot guarantee this. FYI- they really cram the seats in tight; at 5'0 with practically no legs, my knees touched the seat in front of me and Sadie was simply unable to curl up small enough to sit under a regular seat. She fit fine in a bulkhead aisle.
During our tenure as members of the Southeastern region of HOPE AACR, Sadie and I were deployed twice to assist veterans at the Huntsville, AL Stand Down.  Sadie has since retired from her animal assisted therapy and crisis response duties.