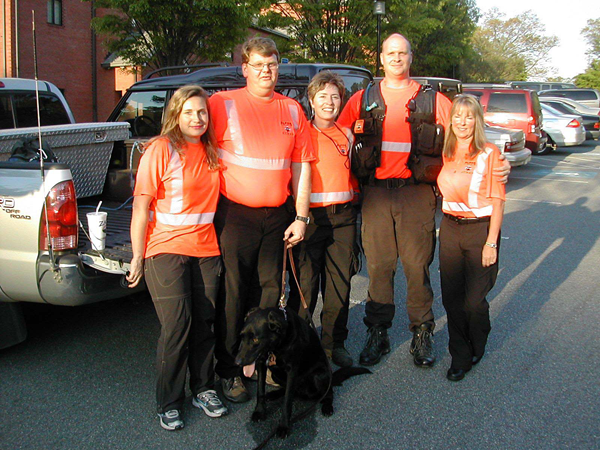 Members of the Alpha Team K9 Search and Rescue (ATSAR) team spoke about their work at the April GARS meeting. Net manager Joel Barrett, W4JOL – who also works with ATSAR – invited the team to demonstrate its K9 capabilities.
Pictured above are ATSAR members Cheryl Knieriemen, KI4SWA, document unit leader; Paul Ruszczyk, KI4ADT, team treasurer; Barney, K9, search and rescue dog; Paula Chambers, KI4LGR, team president; Stuart Samples, KG4PFQ, training coordinator; and Susie Braswell, K9SPB Public Liaison.
Braswell, also a Disaster Medical Assistance Team (DMAT) member, presented slides of her work with DMAT in Haiti following the January earthquake. "The room was very quiet during her presentation," said Sandy Jackson, KJ4DRO, program manager. "Seeing the pictures does take your breath away."
ATSAR members discussed the different types of K9s and their abilities, ATSAR and the challenges the team faces, typical search-and-rescue and communications equipment carried in the field, and some of ATSAR's callouts. GARS members had lots of questions, and conversations extended out into St. Marguerite's parking lot long after the meeting ended.
Click the thumbnail below to read the article written in the GARS newsletter about our visit.

"Reprinted with permission from the Gwinnett Amateur Radio Society (www.gars.org)."