Alpha Team K9 Search and Rescue joins with the National Alzheimer's Association, GA Chapter, to increase awareness and to support fundraising efforts to end the disease.
Click here to learn more about the National Alzheimer's Association!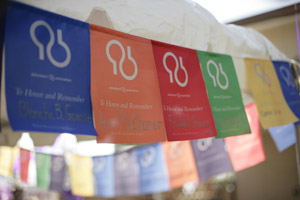 Georgia law enforcement officers now have one more reason to learn about Alzheimer's disease: the dangers of wandering and the Alzheimer's Association's Safe Return Program.
As of this past October, officers will be able to receive continuing education credit for classes taught by chapter staff and certified volunteers. Safe Return Program directors and volunteers recently completed a special curriculum designed by Georgia Safe Return Coordinator Alice Hoffmann and approved by P.O.S.T., the Peace Officers Standards Training. P.O.S.T. is the continuing education credit that law enforcement officers are required to receive each year."More law enforcement officers will be more willing to take this essential training now that they can receive credit for it," Hoffmann said."The law enforcement training is so crucial."
A total of 14 people attended the Safe Return training seminar to become certified instructors. They are: Alice Hoffmann (Atlanta regional office), Laurie Parker (North Georgia regional office), Tracy Ford (Macon regional office), Nancy Goode (Albany regional office), Carrie Valentine (Augusta regional office), Jenny House (Savannah regional office), Paula Chambers (ATSAR), Susie Braswell (ATSAR), Kelli Jablonski (ATSAR), Pam Nyberg (ATSAR), Kathy Simpson (Volunteer), John Thames (Atlanta regional office), Vice President of Chapter Services and Public Policy Ginny Helms, Christina Semple (Atlanta regional office) and Sarah Carson (Atlanta regional office).
Safe Return earns a new Badge of Honor today since there have been more cases of missing persons with Alzheimer's disease. Attendees will definitely find this training helpful in their day-to-day routines. The day-long seminar and "Train the Trainer" session included several wellknown speakers. Stuart Samples, the President of ATSAR (Alpha Team Search and Rescue), presented information on search and rescue techniques and when to call for a K-9 search team. He also did a short demonstration on how search dogs and team members work in unison. Private investigator and retired FBI agent, Harold Copus, outlined search strategies and talked about what each office needs to have readily available in the event of a missing person.
–Alzheimer's Association's Safe Return Program™